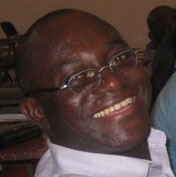 Mr. Ben Arhin Sackey works as an Environmental Safeguard Specialist and is currently a Certified Environmental Auditor with the Institute of Environmental Management & Assessment (IEMA) as well as a Certified Lead ISO 14001 EMS Implementer with the Professional Evaluation & Certification Board (PECB).
He holds Post Graduate Certificate in in Occupational Safety, Health & Environmental Management, Certificate in Project Management & Planning, MPhil in Food Science and a BSc in Biochemistry/Food Science.
Ben has since 1997 been working with the Volta River Authority (VRA), a public power utility company in Ghana, and was appointed Manager, Environment & Social Impact in 2014, a position he currently holds. He is a professional member of the International Hydropower Association as well as the International Association of Impact Assessment.
Mrs. Josephine M. Sackey is an International Certified Microfinance Expert from the Frankfurt School of Finance and Management.
She holds a Master of Arts (MA) Degree in Library Studies as well as a Bachelor of Arts (Hons) in French and Drama (Theatre for Extension Communication) all from the University of Ghana as well as a Post Graduate Diploma "Organizational Development" from the University of Cape Coast.
She has certificates in Executive Development and Strategic Persuasion: The Art and Science of Selling Ideas from the University of Pennsylvania Wharton Business School's Aresty Institute of Executive Education in the United States.
She also holds a Certificate in Project Planning and Management from the Ghana Institute of Management and Public Administration (GIMPA) and another Certificate in Public Relations, Advertising and Marketing from the Ghana Institute of Journalism.
Mrs. Sackey has over 10 years' experience in the Microfinance Industry, working to facilitate financial inclusion and access to credit for the non-formal sector.